TotallyAwesome ensures kid-safe content creation for brands in APAC
With short-form digital content on the rise among APAC kids, we are happy to announce that we launch the first kid-safe creation studio and influencer network for APAC brands.
Today we are pleased to announce our CreationHub and 'Kidfluencer' Network launch. In partnership with the best creators, kids' influencers and production houses, we are willing to give brands a way to entertain and engage kids with safe and COPPA-compliant content.
Our latest research on APAC kids' digital behaviour shows that short-form digital content, such as online videos and short cartoons, now rivals long-form content in the battle for kids' attention. 2016-2017 saw increased numbers of kids watching clips online – the percentage has grown from 61% to 65% in a year.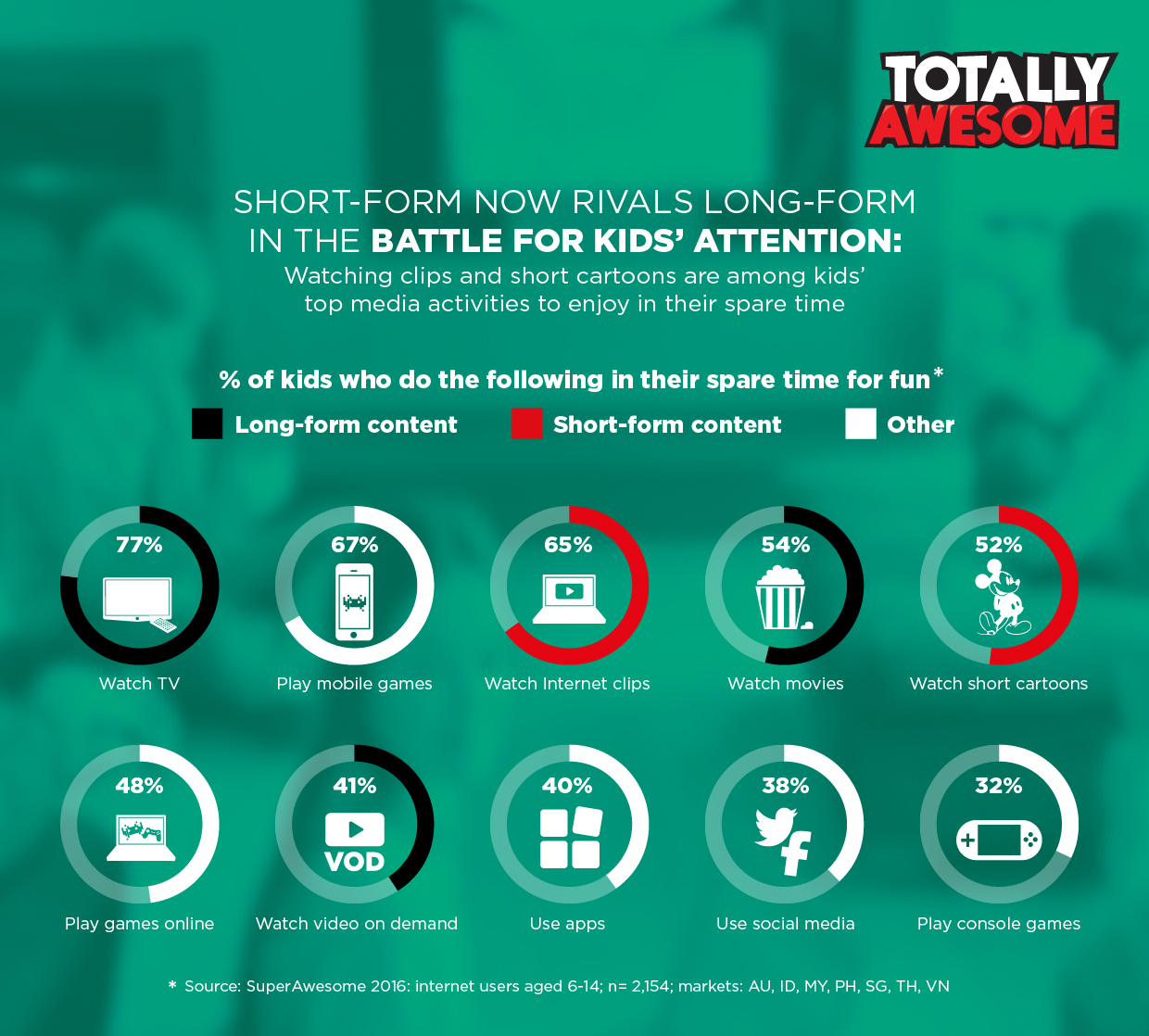 Being the only experts in the kids digital industry in Southeast Asia and Australia, we have been helping global brands in APAC to reach kids in safe, entertaining and effective ways since 2015. Our technology was developed specifically for the needs and requirements of the under-13 industry to ensure that all brand engagement follows global kid-safe advertising guidelines and kids' privacy laws, including COPPA and GDPR.
Over the last year we have built a hub of kids' influencers, content producers and production houses to work alongside our existing ad experts, to provide a complete digital media solution for kids brands in APAC. CreationHub services vary from advertising, branded and sponsored content and kids' influencers, to the creation of full digital series that build an emotional connection with kids.  
After identifying the right creators and production houses to work with, our CreationHub's team runs KidAware training and certification for all our partners to ensure that every piece of content we create takes into account the under-13 industry's regulations and guidelines. The creation process goes through a number of expert reviews to make sure that all content is appropriate and suitable for kids and distributed to the most effective  digital destinations for this audience. Every approved campaign is given a SAFE AD watermark as an industry guarantee that it complies to kids' industry standards.
Learn more about our TotallyAwesome products here or say hello to our team and we'll reach out to you.