How TotallyAwesome helped Pizza Hut increase sales by 14% during the FIFA World Cup through our gaming solutions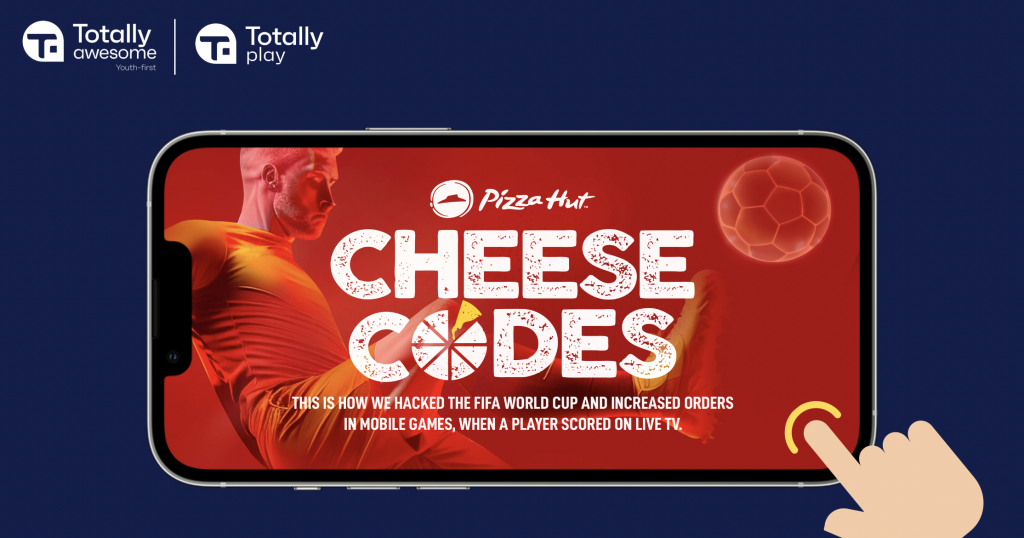 In December 2022, the FIFA World Cup became a battleground for Quick Service Restaurant brands as traditional media spaces were cluttered with their ads and promotions. This created an unexpected marketing challenge for the annual Cheesy Poppers Pizza campaign – the fight for maximum share of voice.
Objective
TotallyAwesome teamed up with Dentsu Creative Malaysia and Carat Malaysia to help Pizza Hut:
Change the playing field from traditional media channels to mobile football games
Drive brand awareness with gamers who are football fans – a passionate and untapped audience who loved to recreate score lines of live matches in the virtual world
Build brand preference and win share of voice for Cheesy Poppers Pizza through relevant touch points
Approach
Through our TotallyPlay gaming solutions, we were able to build brand awareness and a desire for Cheesy Poppers Pizza using the following:
TotallyAwesome's youth-first gaming research & insights:

57% of 18 to 35 are gamers, of which 80% visit a quick service restaurant at least once a week

They spend an average of 5 hours a day on mobile devices where they game individually or with their real-life friends

Increased downloads of mobile football games over the years – nearly 1.2 million active gamers (and climbing)
Real-time conversations with real-time conversions:

Every time a goal was scored on live TV, a unique Cheese Code dropped on dynamic A-boards in mobile football games. Gamers could simply tap on the board to order limited-edition pizza combos in real life.

The codes were created by combining player names with pizza toppings: MBAPPEPPERONI, CRISPIANO, MEZZIRELLA, NEYMARINARA, MODRICHILI, and so many more.
Best-in-class in-game media suppliers:

TotallyAwesome deployed targeted in-game display and rewarded video ads with the unique Cheese Code in Malaysia's top football game titles such as FIFA, Top Eleven, Football Cup, Football Manager and Football League.

These games were sourced from leading in-game suppliers like Bidstack and Gadsme and were handpicked & curated by TotallyAwesome based on Malaysia's football gaming affinity.
Brands that seize moments of engagement with real-time contextual brand experiences can captivate consumers during crucial purchase moments. Through TotallyAwesome's non-intrusive in-game ad experience, the campaign broke through the media chaos with increased attention and engagement.
Results
+14%


Increase in Orders

~8,000,000


Media Impressions

~100,000


Active Gaming Hours
~1,100,000
Reach
Above Benchmark
Viewability in
Rewarded Video Ads
Above Benchmark
Viewability for
In-game Display Ads
Join our Conversation
TotallyAwesome Showcase examines what makes Youth-first marketing campaigns successful. If you would like to learn more on how we can add value to your Youth-first marketing campaigns, reach out via info@totallyawesome.tv or follow us on LinkedIn for more updates.
TotallyAwesome: your Youth-first specialist marketing and media platform. Connecting brands with youth in a safe, relevant and effective way.
Credits
Kunal Roy – Chief Executive Officer,  Dentsu Creative Malaysia
Andrew Low – Group Chief Creative Officer
Sid Nair – Creative Director
Camilia Johari – Copywriter
Diyanah Poedjo – Designer
Rafique Ramleh – Senior Strategic Planner
Nicholas Corneilius – Social Media Director
Janine Wai – Business Director
Szen Li Cheam – Assistant Digital PR Manager
Amy Maisara Abdul Rahman – Senior Digital PR Executive
Claudia Monteiro – Senior Digital PR Executive
Wai Kin Ng – Senior Producer
Michelle Loo – Producer
Najwan Danil-Taridi – Motion Graphics Designer
Winnie Chen-Head – Partner, Head of Product & Growth, Carat
Vanitha Selvathurai – Partner, Head of Carat 
Mohamed Salim – Head of Strategy, Carat
Manpreet Kaur – Director, Client Leadership, Carat
Man Shin Yeong – Senior Executive, Media Planning, Carat
TotallyAwesome 
Gary Fung – Regional Gaming Director
Accounts – Kieu Nguyen, Destinee Koh, Mitchel Vaz, Van Vo, Eleen Tay
BidStack 
Matt Blackholler – Director
Grace Cooke – Head of Operations
Gadsme
Antoine Clairet - Head of Demand
Eashen Rhodes – Head of Supply
Pizza Hut Malaysia
Emily Chong – Chief Marketing Officer
Jacelyn Lim – Assistant Brand Manager